Rivka Rogovin Bekman's Memories - Written in 1934
Rivka Rogovin Bekman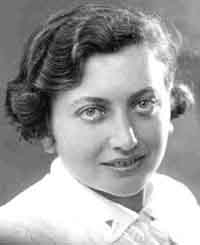 Rivka Rogovin Bekman (1912-1981) was born and raised in Vishnive and lived there until 1935 when she made "Aliyah" to Eretz Israel. Two of her brothers, Gershon Rogovin (1906-1992) and Mordechai Rogovin (1910-1982) had immigrated earlier. Gershon came first in 1926, followed by Mordechai in 1932.

The following are selected parts of Rivka's memories dated January 10th, 1934. She described what happened to the Rogovin family during the period when they returned to Vishnive in 1917 (having fled the War) only to find that the war was still going on between the Russians and the Poles.

...In this bad time (WWI) when we were refugees in Vilna, Mother gave birth to a son. I got additional work rocking him. It would not be that difficult if I were not alone in the house and if there were no mice. When I was alone in the house with the baby, mice would come out from all corners. They were as big as cats and were crawling all over the floor....

.....We returned home to our shtetl, Vishnive, after WWI. We found our house was occupied by German soldiers and there was no room for us. We looked for another residence but this was very difficult because most of the shtetl was burned. With blessed God's help, we found a king's palace in the shape of a small apartment with tiny windows. The windows were made of German glass, criss-crossed with iron wires, which added to the darkness inside the house. The house belonged to my cousin, Aharon Leib. This was an old ruin from the time of King Sobietzki. We felt as if the roof was going to collapse over our heads any minute. We lived there for a year with other neighbors. Although they lived there before us, they allowed us to join them because we were relatives of the owner....

....Because of Vishnive's proximity to the border, it was a target for frequent military attacks. I remember large legions of soldiers invading and demanding food. They used to search in every corner of the house. It looked terrible when they turned the beds upside down and the feathers would fly out of the pillows. After such an intrusion, we had no desire to fix the beds knowing that another group would be coming soon and creating similar upheaval....

...Time and again we were sure the soldiers would kill us when we did not have any food to give them. They were threatening us, waving their pistols. Finally Mother knew what to do. During each attack she would immediately prepare food for the hungry soldiers, even if she had to use the last supplies which were intended for feeding her own hungry children.....

....One day after a mild attack was over my cousin, who was also our neighbor, wanted my brother Mordechai to go to the pharmacy downtown and buy some medicine for his sick cow. As soon as Mordechai left, a heavy attack began. We hid in our Christian neighbor's basement. I remember some soldiers who were probably Jew-haters, looking down into the basement and asking if there were any Jews down there. Our neighbor was standing at the entry while we, the little children, were playing. Our parents were hiding behind us. The answer was negative of course, but one can imagine our fear. We could not forgive ourselves for sending Mordechai out during such dangerous shooting. We waited anxiously until the shooting stopped. As soon as we left our hiding place, Modechai showed up. One cannot describe our joy. He told us that when the shooting began he was near the pharmacy. He could not run back home. He and a soldier were taking cover behind house corners and behind fences. They moved from one hiding place to another until a bullet killed the soldier. Mordechai continued hiding and moving until he reached the home of our relative. He knocked on the door and yelled for help. After calling out his name, he was allowed in. He joined them lying on the floor until the shooting was over....

Mordechai Rogovin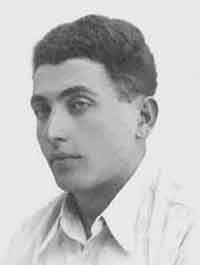 ....A memorable event that I must write about happened as follows: Russian soldiers were eating inside our house. Suddenly my brother Shlomo came in through the back door with a Polish Jewish soldier from Sokolke. This soldier was escaping from a Russian POW camp. The soldier begged to change his clothing so he could continue escaping. When Mother saw him and heard his Polish accent she was very scared. The Russians were only several steps away eating in the other room. If they found him hiding at our home all of us would be killed. But if she gave him away, he would not survive. Her pity was stronger than her fear. She gave him some old clothing and sent him to hide in the cattle pasture during the daytime. She also gave him some food so he would not starve. At night he slept in our house. Every night we were very scared until the Russians left the area several weeks later. When Polish soldiers finally entered our area he joined them and left us.
It is interesting to mention that years later my brother Gershon met this soldier in Eretz Israel where they exchanged memories about that period...
Gershon Rogovin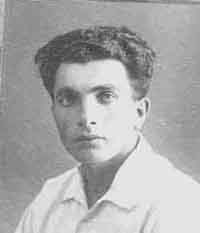 ....Our family established a small store for basic supplies such as oil, sugar, kerosene, herring, liquor, etc. Mother used to travel to Vilna to buy this and bring it back to Vishnive. We made our living by bartering these supplies with the local peasants for grains, potatoes, beans, and chickens. One day a group of Polish soldiers entered the shtetl and broke into our store looking for food. They opened wide the door and threw goods from the store out into the street. Many of the local Gentiles gathered near our store like crows near a carcass waiting to loot. I remember one young woman standing with her mother near our store shouting loudly to the soldiers to give her more and more stuff. Other Christian neighbors were standing in front of their houses watching. They did not find it necessary to hide their glee over our misery. They were very happy and jeered us loudly. But after several weeks we saw the revenge. This time Russian soldiers entered the shtetl looking for food. And this time they searched and stole from many of these same neighbors while we were spared. But it never even crossed our minds to cheer about it....